The Black, Hadden &Todd and Pearson Families
Story of Garlogie Mill is shaped principally by the above four families.
Thomas Black (1756 – 1840) was a member of the influential and entrepreneurial Black family that has been well known in Scotland over the centuries. He came from Foveran (in the Newburgh/Ellon area) and lived at the family home of Watridgemuir (just south of Ellon). He acquired Garlogie Mill in 1799 and 1827 spent a vast amount of money upgrading the Garlogie site with a new lade and waterwheel, eventually bankrupting him in 1831. His business partners were his son George Watson Black (1796–1851) and brother John Black (1762–1843) who was a merchant & shipowner from Newburgh.
The wider Black family were also the well-known Aberdeen wine merchants Black and Ferguson who had premises in the Adelphi, Aberdeen. A cousin called William Black of Cloghill (exact relationship not currently known) founded Devanha Brewery in Aberdeen in 1803 also ran the Devanha Distillery, built about a mile upstream from the Brewery in 1825. Thomas Black died in 1840 and is buried in St Machar's Cathedral churchyard in Aberdeen. If anyone has detailed knowledge of the Black family and its descendants, we would be delighted to hear from you.
The Hadden family were also very well known in Aberdeen. The family business of spinning and weaving was founded by Alexander Hadden (1721 –1793) and developed by his sons James (1758-1845, Provost of Aberdeen 4 times) and Gavin (1770-1857, also Provost of Aberdeen 4 times). Besides the sites they managed at Gordon's Mill and The Green in Aberdeen, the brothers were hugely influential in the development of the city, including progressing the construction of Union Street and King Street and construction of the new harbour.
James' son Alexander (1790-1866) picked up his fathers business interests in the early part of the nineteenth century, while Gavin's son James Farquhar Hadden (1809-1879) did the same for his father. Meanwhile Gavin's daughter Margaret (1804 -1888) married into the extremely wealthy family of Thomas Todd (1803 -1868) whose father Joseph (1767 –1835) had made his fortune in the haberdashery and silk cloth business in London. Thomas Todd became one of the principal partners in the firm of Alexander Hadden & Sons and his family lived for many years at Maryculter House where they entertained the great and the good.
The family business then gradually transferred to the third generation of the family via James Farquhar Hadden's son Martin (1847 –1903) and Thomas Todd's sons Gavin (1833 -1909) and James (1834 -1904). It was the job of these three to close the door on the Alexander Hadden and Sons business in 1904 after more than 150 years of Aberdeen manufacturing.
It was left to James Todd's son Thomas Todd (1867 –1938) to find a buyer for the Garlogie site after following the sale of the contents of the mill in 1905. He eventually closed a deal with Weetman Pearson (1st Lord Cowdray) following latter's purchase of the Garlogie portion of the Skene Estate in June 1918. Once again, if anyone has detailed knowledge of the Hadden family and its descendants we would be delighted to hear from you.
The Pearson family rose to prominence in the nineteenth century via Samuel Pearson (1814–1884) who was an English entrepreneur and founder of Pearson plc. After working as a labourer, Pearson set up his own brickmaking and contracting business in Bradford in 1844. In 1856, he brought his son, George, into the business and in 1857 the business won a contract for extension and refurbishment work on the Lancashire and Yorkshire Railway. He retired in 1879 and died in Scholes in 1884.
Weetman Pearson (1856 – 1927) took over S. Pearson and Son in 1880 from his grandfatherat the age of 24 and moved the headquarters from Yorkshire to London. Pearsons built the Admiralty Harbour at Dover, docks in Halifax, tunnels, railways and harbours around the world, and the Sennar Dam in Sudan. He also discovered major oil reserves in Mexico. He became a Baronet in 1894 (Sir Weetman Pearson), a Baron in 1910 (Baron Cowdray) and a Viscount in 1917. He purchased Cowdray Park in West Sussex in 1909, Dunecht estate in Aberdeenshire in 1912 and Garlogie Mill in 1918. Weetman clearly had affection for the Garlogie beam engine and his ancestors have continued his legacy in ensuring its safe and secure preservation. Weetman Pearson died in Dunecht House in 1927, aged 70.
(Weetman) Harold Pearson, 2nd Viscount Cowdray (1882–1933). In 1927 he succeeded his father as Lord Cowdray and entered the House of Lords. He learnt to play polo at Oxford University and his love of the sport resulted in the grounds being laid out at Cowdray House in 1910. He died in October 1933, aged 51, and was succeeded by his only son, John.
(Weetman) John Churchill Pearson, 3rd Viscount Cowdray (1910 – 1995). He attended Eton College and graduated from Christ Church, Oxford. He fought in the Second World War, losing his left arm at Dunkirk. He was the main driving force for the revival of polo in England after the Second World War and continued to play using an artificial limb. In 1956 he launched his own major trophy, the Cowdray Park Gold Cup, which is held annually at Cowdray Park in Midhurst, West Sussex. He served as Chairman of S. Pearson & Son Ltd from 1954 to 1977, and as President of Pearson PLC from 1983 to 1995. He resided in Cowdray Park in Midhurst, West Sussex but also visited Dunecht House from time to time. It was during John Pearson's tenure as head of the family that the Garlogie Beam engine and Turbine House was transferred to Aberdeenshire Council in 1993, thus ensuring its survival following its Grade A listing by Historic Environment Scotland in 1971.
Michael Orlando Weetman Pearson, 4th Viscount Cowdray DL (born 1944). He was educated at Gordonstoun school and served in the British Army for two years. He has variously worked as a financier, farmer, film producer (producing the film Vanishing Point), director of the jewellers Theo Fennell and was on the board of trustees of the Tibet House Trust for 20 years. He lives in West Sussex and does not appear to have much to do with the running of the Aberdeen Cowdray estates.
Charles Pearson (born 1956) is the younger son of the 3rd Viscount Cowdray. The Hon Charles Pearson was educated at Harrow school. He is Director of The Dickinson Trust Ltd, The Cowdray Estate Trust Ltd and the Cabardunn Development Company Ltd. He is the principal partner in the Dunecht Home Farms Partnership, a farming business operating over 3,000 acres (12 km2). He lives in live in West Sussex and in Aberdeenshire.
George Pearson (born 1995) is the son of Charles Pearson. Charles in part owner of Dunecht Estates and we understand is involved in their day to day running.
We would be delighted to meet members of the Pearson family and learn more about their involvement with Garlogie.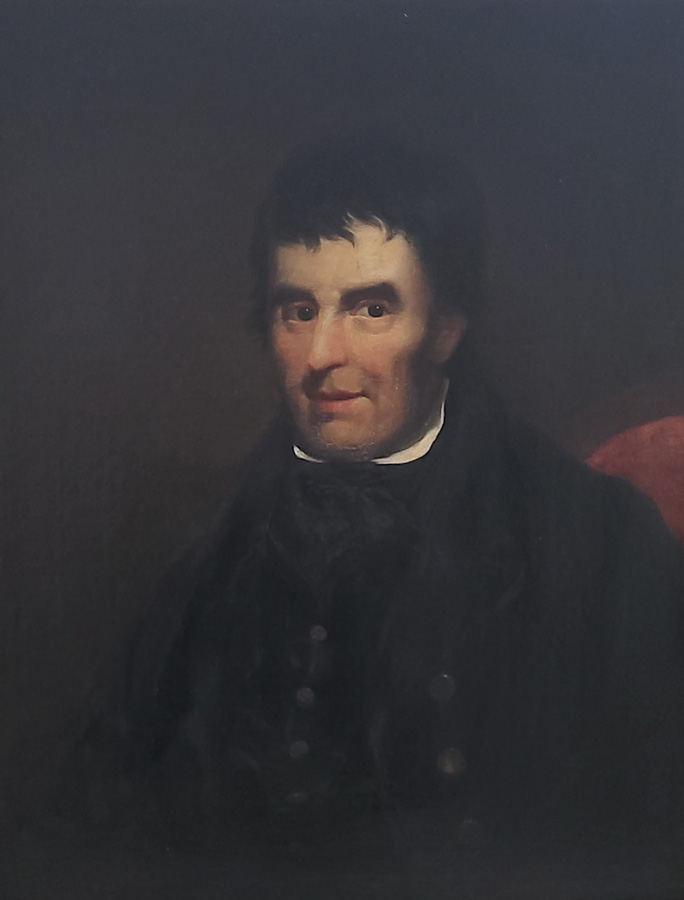 John Black (1762 –1843), brother of Thomas Black and partner in Garlogie Mill